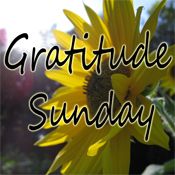 I am joining with Taryn over at Wooly Moss Roots to share what I am grateful for this Sunday. It has been a rough week, last Saturday I fell while on a run and broke my collar bone, 3.5 months after I broke my collar bone running. Very depressing. But always there is blessings...
1. My husband, Joel, was in town when it happened this time. I have been blessed to stay in my pajamas, eat meals in bed, and sleep away my week in sweet drug induced slumber. With four children that would have never happened if he was on a film shoot. So thankful.
2. Laying in bed for a week has given me a lot of time to think about my life, work on my blog, dream about what I want out of life, and do some self reflection on how I am doing in my walk with Christ. It is good to have time to ponder and pray. So thankful.
3. A friend from church brought me a blueberry pie this week. I thanked his wife when I saw her. She said she hadn't known anything about it until he had already dropped it off. I am thankful for thoughtful friends.
4. Another friend kindly drove me to our church leadership meeting last night since I am not suppose to drive while on pain killers and I am in pain without them. At this meeting my prayer was answered by a woman who spoke. I had been feeling overwhelmed with all my responsibilities and how can I possibly help all those that are in need. Her suggestion-- pray to know who the one is to minister today. and pray about how I should minister to them today. Somehow this makes it more manageable. I can serve one each day. Instead of thinking about the many. Pray to know who the ONE is today. I am thankful to be able to receive revelation from God in doing his work.
This is the day that the Lord has made;
let us rejoice and be glad in it.
Psalms 118:24
When we give thanks in all things, we see hardships and adversities in the context of the purpose of life.
Elder Dallin H. Oaks
Labels: gratitude sunday